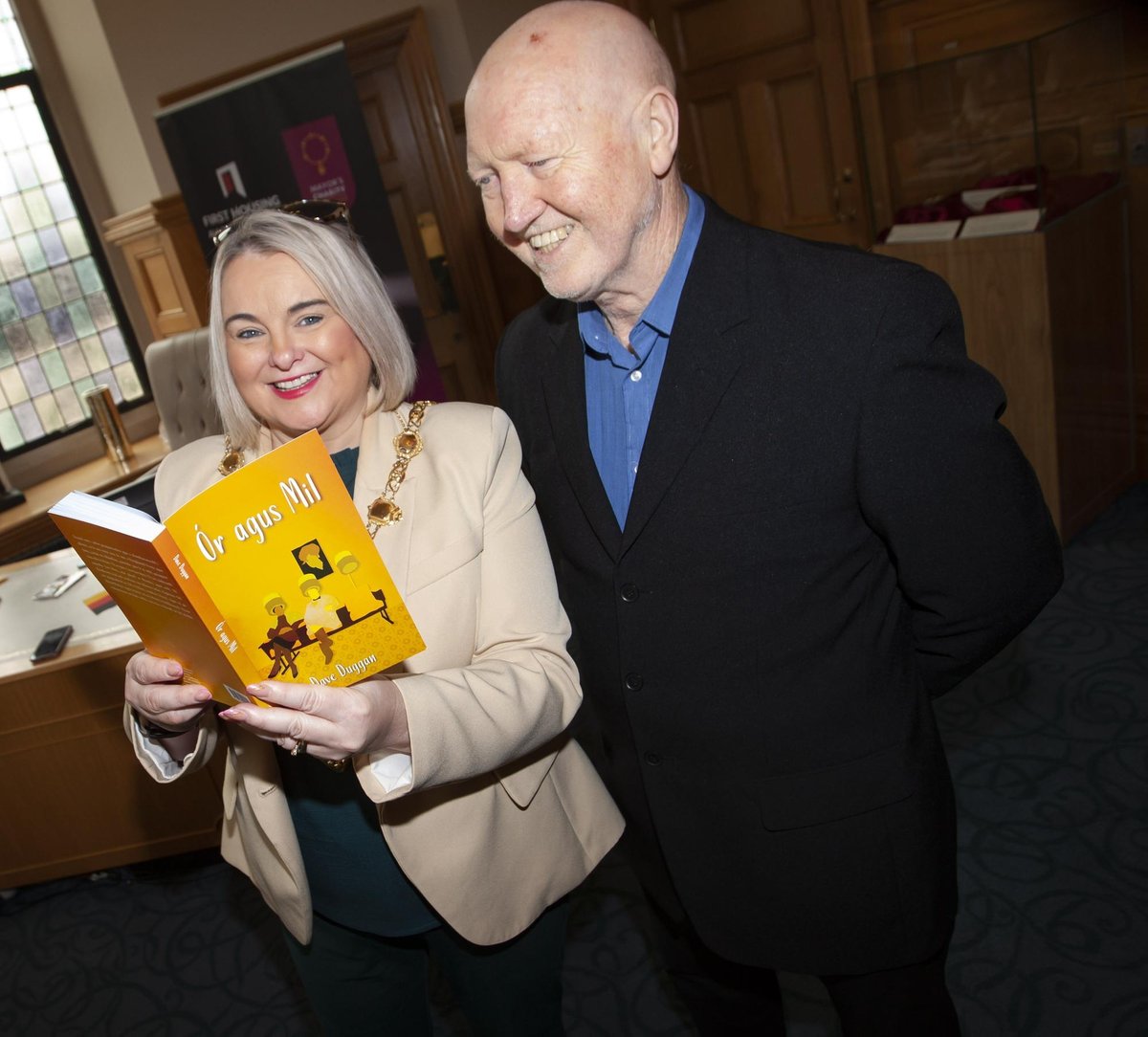 An Irish-language book set in Derry is out this week
The book is called Ór agus Mil, which translates to Gold and Honey, and tells the story of two friends who, fresh out of local tech, open their own hair salon. The books take readers on a journey as young women navigate the world of business as well as their own relationships.
Dave said: "Ór agus Mil, which translates into English as Gold and Honey, is my second novel in Irish, my fifth overall. I mainly write drama for stage, screen and radio but I have a nice series, looking back, of novels in both languages ​​and this is the latest. Ór, which means gold, is about business and money, and Mil translates into English as honey, is about relationships, love, friendship.
"Ór agus Mil is set in a hair salon in Derry. Fiona and Josie are the heroines and they have just called themselves hairdressers. What a wise man would have told them to do is go to an established hairdresser , to teach them how to trade, get a client list, see how the business works, and then go out on their own as they wanted. But they are two pretty powerful young women and they decided to do it themselves. They get a site in an alley, out of the way, behind an old shirt factory. Their owner, whose name is Tightener, lives in the apartment above. It is quite easy with them in terms of rent and it suits them to have them there. He has secrets in his past and he is a fiery character. He is not good at admitting his age but he is up there, he is definitely older than Fiona and Josie. He is very interested in a range of middle-aged women in the area, who are also very interested in There is an interesting cross-generational observation around relationships and then they find out things are not as salacious as they thought so.
Mayor of Derry City and Strabane Borough Council Sandra Duffy pictured with author Dave Duggan at the Mayor's Lounge, Guildhall on Tuesday afternoon for the launch of his new book 'Or Agus Mil'.
"I'm currently working on a book of essays called 'Journey Work'. It's a collection of reflections on my work and the genres and styles I've worked in. I've worked as a writer for 30 years, full time for 25 of them. This book is in good shape now, so I'm putting in place measures to get it published now. I haven't written a play in quite a while, so I feel like one of those is gaining momentum. That could come by the end of next year."
The bilingual book launch for Ór agus Mil will take place at 6 p.m. at Cultúrlann Uí Chanáin on Wednesday, October 19. Everyone is welcome. The book is also available from Little Acorns bookshop on Foyle Street.
DAVE'S NEW BOOK. . . . .Author Dave Duggan, signing a copy of his new book 'Or agus Mil' for the Mayor, Sandra Duffy during a visit to the Mayor's Lounge, Guildhall, on Tuesday afternoon. Included from left are Paul Laughlin, Erin Hamilton, Irish Language Manager, DCSDC, Mary Delargey, Pat Byrne, Eamonn Baker and Mary Kay Mullan. (Photos: Jim McCafferty Photography)