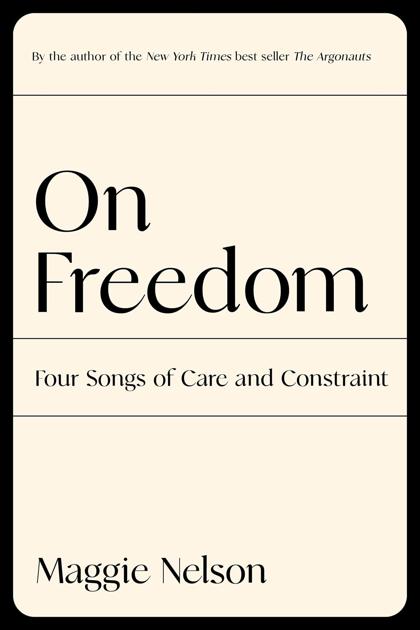 Assessment: Fresh air for freedom | Book Reviews and News
[ad_1]
KATHLEEN ROONEY Star Tribune

"On Freedom" by Maggie Nelson; Graywolf Press, 288 pages, $ 27.
Given that Maggie Nelson is known to broaden categories and defy expectations of the genre, it is perhaps no wonder that her latest book, the subtle but expansive "On Freedom: Four Songs of Care and Constraint", takes it as subject the quality or state of being free (if we define it positively), or the power or condition to act without constraint (if we define it in relation to what it is not).
Although this is where much of the appeal of this book lies, for what do we even mean by freedom? "Part of the problem is with the word itself, the meaning of which is not at all obvious or shared. exactly, we are talking, or if we are talking about the same thing, "wrote Nelson in his introduction.
Author of nine previous books, including, most recently, "The Argonauts", winner of the 2015 National Book Critic's Circle Award, Nelson is a broad thinker, concerned with ethics and concerned with balancing emotion with intellect. Much less memorial than "The Argonauts", "On Freedom" is more focused on cultural criticism and philosophy, exploring its broad subject matter through the frames of art, sex, substance use and climate change.
Nelson's application of these restrictions on her seemingly unlimited subject seems wise because – rather than offering a polemic or manifesto on personal or political freedom – she addresses "the ways in which freedom appears to be linked to the so-called non-freedom, producing mottled experiences of compulsion, discipline, possibility and surrender. "
[ad_2]