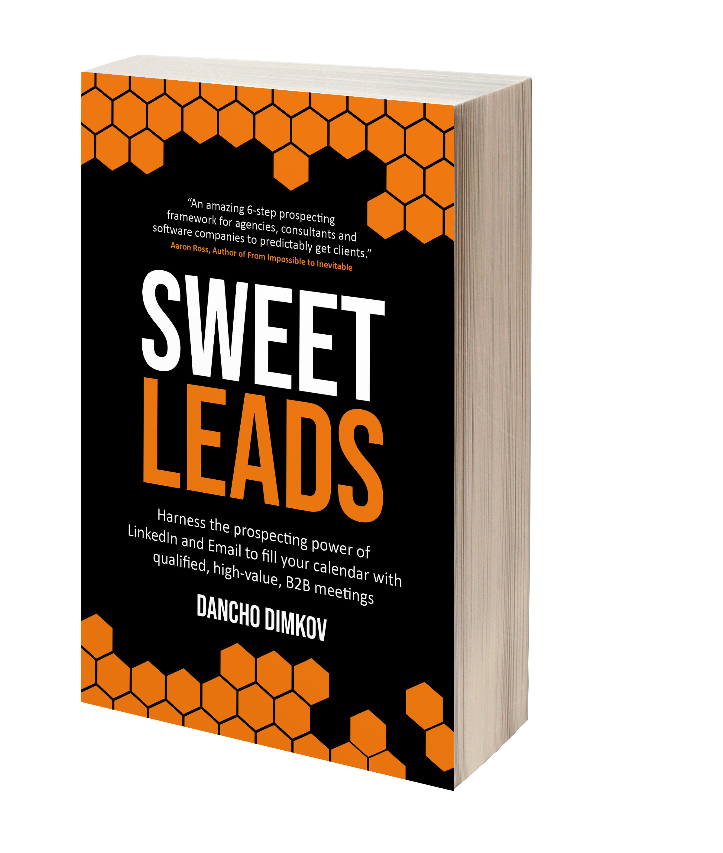 BOOK LAUNCH ALERT: SWEET LEADS BY DANCHO DIMKOV
"" An incredible 6-step prospecting framework for agencies, consultants, and software companies to get customers in a predictable way. "
– Aaron Ross, author of From the impossible to the inevitable "
Harness the prospecting power of LinkedIn and email to fill your calendar with qualified, high-value B2B meetings
An inspiring story of the personal and thorny path to success of an entrepreneur.
The way to make your dream come true is not always easy. Indeed, it is often bumpy, muddy and full of obstacles, but more often than not it leads to beautiful destinations.
Informative and well-structured, it's the perfect step-by-step guide to achieving what every salesperson dreams of: quality, interesting leads.
The Compelling Six-Step ZZ Framework is mastery work that the author, founder and CEO of BizzBee Solutions has successfully applied over the years in his own outreach practices and through this has grown his business to more of 20 employees. The process is not only very easy to apply to all possible service providers, but it has also been tested and proven to work on over 400 clients to date.
A breath of fresh air on the lead generation scene that's about to blow the dust off the same overused sales tactics.
The author has made sure that this will not be another sales book, but an awareness guide, an oar of help through otherwise cloudy sales waters, a dive deep enough to bring you joy and joy. new leads, and keep you and your business stable and afloat on the B2B broadcast surface.
The real question that the book itself implies is: are you brave enough to jump into the water?
"An incredible 6-step prospecting framework for agencies, consultants and software companies to get customers in a predictable way. " – Aaron Ross, author of From the Impossible to the Inevitable
"It's not just another sales book. This is a personal insight from a daring professional who provides their own experience, dilemmas, and solutions, sometimes against dogmatic marketing paradigms. If you are a B2B consultant, this book is written just for you. Excellent book, modern subject, dynamic, educational, easy to read. Highly recommended." – Vlatko Danilov, MSc, President of the Management Consulting Association
Available for just £ 0.99 on amazon.co.uk and $ 0.99 on amazon.com only on September 29e and 30e.
It's just a click away now: https://amzn.to/3krOuho
Media contact
Company Name: BizzBee Solutions
Contact: Dancho Dimkov
E-mail: Send an email
Telephone: +389 22 778 815
Address:Str. 1512 No. 1, Entrance 1 Office No. 26 & 27
City: 1000 Skopje
State: Republic of North Macedonia
Country: Macedonia
Website: https://www.bizzbeesolutions.com/