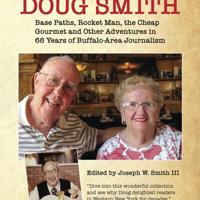 DELUCA: New Book Brings Doug Smith's Writing to Life | Lifestyles
I had fun the other day trying to imagine what it must have been like when my colleague Doug Smith arrived at the Pearly Gates.
I wasn't there, so I can't confirm that, but I like to imagine what might have happened. Imagine this:
Puffy white clouds float around a picture-perfect sky as veteran reporter Doug Smith strolls through the scattered cumulus clouds, dressed in his favorite powder blue leisure suit with a stylish straw hat.
He whistles, a little out of tune, and carries a briefcase, a baseball bat on his shoulder. He stops short when he comes across the doors where Saint Peter is waiting, dressed in a white toga as one would expect, and holding a book in his arms.
Doug raises his eyebrows at Groucho Marx and does a dramatic double take, impressive in his conviction thanks to his many years on stage in community theater.
"Wow," he said to Saint-Pierre. "You are really there."
The former Niagara Gazette sports columnist steps a little closer to where the goalie is standing. "You know I've been a skeptic most of my life, right?" he said to Peter, pointing to the door and the clouds and the old saint himself.
Saint-Pierre nods and squints at the beginner's mind. "Come on, there were times when you knew for sure…"
"Let's just say I'm really glad to see you here," Doug replies with a smile. His eyes widen behind his wide-brimmed glasses as he notices the doors look familiar.
"Jeepers, it looks like Gate 6 at Yankee Stadium," he says admiringly as the sound of cheering fans echoes in the distance.
Saint Peter, leafing through the pages of a book, looks up and smiles "Yes. We like to customize the frame for our newcomers," he said, pointing to a spot on a page. "I see here that you really liked baseball."
"That's right," Doug exclaims, then looks over the dais where Peter is standing to take a closer look at the book that catches the keeper's attention. "What are you reading ?"
St. Peter is holding the book and Doug is surprised to see some of his own photos on the cover.
"It's an advance copy of a book of your old newspaper columns," replies Saint-Pierre. "In a few years your son Joe will be publishing this and it contains some of your best work."
"Let me see that," Doug says, and Peter hands him the book.
"Wow. Joe did that?" Doug shakes his head in wonder. Joseph III, is a writer himself, and after his father passed away in 2017, he curated about 120 of Doug's best works into a book titled "The Best of Doug Smith: Base Paths, Rocket Man, the Cheap Gourmet and Other Adventures" in 68 years of journalism in the Buffalo area.
Doug's eyes grow a little misty with the honor bestowed upon him by his senior and as he flips through the book he notes that it includes columns from throughout his career, including his years at the Buffalo Courier-Express when he wrote primarily about entertainment and theatre, his later adventures as a food critic when he called himself "The Cheap Gourmet", as well as his many stories about two of his greatest passions, baseball and road trip. train.
Woven like a golden thread through it all is his love and joy for his family, especially his beloved wife of 57 years, Polly, with whom he shared his hometown star.
His whole life is in these pages, depicted as colorfully and honestly as the many scorebooks he compiled at community baseball games.
His extreme talent for storytelling gives St. Peter a fairly accurate account of Doug's time on dry land and the saint is duly impressed.
"I really enjoyed the chronicles about your trip with Polly on Route 62. But why the hell did you want to go to El Paso?"
Doug laughs at the inside joke, which indicates that the saint had really read the whole book.
St. Peter gently puts his hand on Doug's shoulder and becomes serious for a moment.
"Seems to me you did everything you could," Peter said. "You drank every last drop of love and joy available to you."
From his briefcase, Doug pulls out a bottle of Maker's Mark, which he often savored in small doses, and waves it at Peter. "Almost everything," he jokes affably, shaking what little is left in the bottle.
There is a moment of comfortable silence as Peter closes the book and hands it to Doug. It's not the typical tome he uses to examine the lives of newcomers. But it will be more than enough.
"Nice work," said the senior apostle, smiling at the veteran reporter. "Go ahead. You're next at bat."
"Really?" Doug's eyes twinkle as, without hesitation, he tosses the near-empty bottle of bourbon to the saint who catches it with the dexterity of a seasoned second baseman.
"Thank you. It's absolutely wonderful," my former colleague told him before carefully tucking the book away in his briefcase so he could savor every word later.
"Tell Polly I'll be waiting for her," he whispers. Then, in the blink of an eye, he disappears into the stadium.
Saint-Pierre pours what's left of the bottle into a shot glass that magically appears in his hand.
As he toasts the life of the esteemed journalist, he hears the crack of the bat and the sounds of crowd approval as a ball flies out of the stadium and lands with a hard plop near the doors openning.
Saint-Pierre nods his head in satisfaction. Doug Smith hit a home run. The crowd goes wild.
Niagara Gazette contributor Michele DeLuca worked with Doug Smith when she was a copyist at the Buffalo Courier Express and later as a reporter at the Niagara Gazette. She is a huge fan of her work. Michele can be reached by email at [email protected] "The Best of Doug Smith: Base Paths, Rocket Man, the Cheap Gourmet and Other Adventures in 68 years of Buffalo-Area Journalism" is available on Amazon.