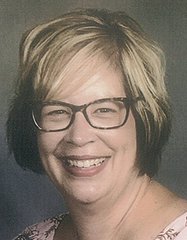 Endicott celebrates 25 years with Lakeside Book Company
Journal review
Amy Endicott will be celebrating her 25th birthday with Lakeside Book Company on December 27.
Endicott started her career in 1984 powering the 550 gathering machine. From there she moved to line 9 to work on gilders, food tailor and various other skills. She then went to Line 12 to operate the hand-fed end-and-tape machine and was subsequently promoted to a Sewer Operator, which she did for many years while working at Lakeside Book Company. She then made the decision to be a stay-at-home mom with her second child. Endicott then returned to work in the mechanical and table binding area. She was promoted again to the smyth Sewer Operator and worked there until her current position as a utility and auditor for the 320 collection machine and JOA cartoner.
Endicott is married to Scot, who is also an employee of Lakeside Book Company, and they have three children, Lindsey, Logan and Karsyn. She also enjoys camping, cooking, crafts, and spending time with family and friends and is affiliated with the First United Methodist Church, the Burning Hearts Emmaus community, and the Montgomery County Extension Homemakers.