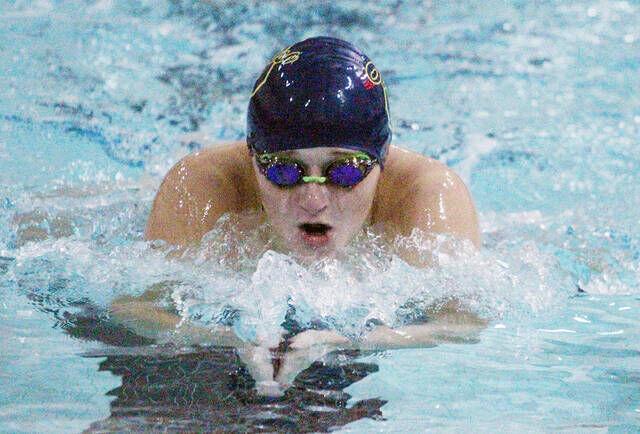 GIRLS SWIM SNAPSHOT: Owosso motivated for the 2021 season | Local sports
OWOSSO – The Owosso women's swim team began a recent practice by writing a journal entry, with each swimmer quickly jotting down their goals and aspirations for the season as part of a mental exercise, according to Andrew Murray, who will help to motivate his team in the swimming pool.
Senior Macy Irelan readily admits that she is considering a few individual school records and a return to state after becoming the first swimmer in school history to win All-State honors in 2020. But she doesn't want to. not do it alone.
"I want to bring a group of us to the relay state meeting," Irelan said.
Her teammate Mya LaMay was quick to remind Ireland how close the team was to having a qualifying stint a year ago, but a COVID-19 outbreak has quarantined much of the team shortly before the conference meeting. Owosso ultimately finished tied for second in the Flint Metro League after finishing third in the conference meeting behind Fenton and rival Corunna.
It's a meeting Irelan, LaMay and Madisyn Ketchum often think of, a source of motivation for team captains as they seek to set the tone this season.
"Either way, we all have to support each other, we have to always be optimistic, we have to always be ready," Irelan said of his message to his teammates.
"Positivity is the key," Ketchum added.
"No matter how the meeting is or how your day has been, support each other," LaMay continued.
"When you're here, work hard and keep going," Irelan said.
Murray loves what he's seen from the squad so far, acknowledging it's been nice to have a more familiar start in his sixth season, without pauses or delays related to the pandemic.
"Our girls look great from the start," Murray said. "We had the best times ever in the first month which is always a good sign for the girls. We missed the Coupe d'Etat in a stint of about a second and a half (Aug 28), so we have some great races and the girls look strong.
Key Trojans comebacks this season include Irelan, LaMay and Ketchum, as well as fellow seniors Claire Ardelean and Bailey Cummings. A number of international students, including Britney Erazo, bring additional depth, Murray said.
"This senior group is doing a great job leading the team and we are just hoping for a good season," he said.
While second place with Corunna has been a source of motivation throughout the offseason, Murray encourages his athletes to just focus on themselves.
"We're just talking about trying to be their best, so I think if we take care of ourselves and work as hard as we can every day to improve ourselves, the times at the end of the year are going to be there. where we want them to be, "Murray said." We try to take care of our business and if we take good care of ourselves, everything will fall into place later in the year. "
Owosso is enjoying a 2-1 start to the season, beating Caro and Swartz Creek in August. More than anything, Murray said the team are just grateful for the opportunity to compete.
"My message at the start was just to take advantage of the fact that we can have these things," Murray said. "We didn't realize what we had, what was taken away from us last year and so this year we take every encounter, taking it to heart."
Head Coach: Andrew Murray
Key turners: Macy Irelan, Sr., Mya LaMay, Sr.; Madisyn Ketchum, Sr .; Claire Ardelean, Sr .; Bailey Cummings, Sr .; Kate Grinnell, Jr.
Newcomers / Key Subclasses: Britney Erazo, Sr.; Maialen Laraudagoifa, Sr .; Mira Sivulka, Sr .; McKinley Guru, So .; Rebekah Starr, then.
Prospects: Owosso brings back a formidable group of students from the top class and the added depth of exchange students Britney Erazo, Maialen Laraudagoifa and Mira Sivulka should give a boost to a team barely lacking in motivation. Expect the Trojans to be a force in Flint's Underground again.
Head Coach: Amy Golombisky
Key turners: Lila Belmer, Sr .; Jade Evans, Sr .; Mackayla Davis, Sr .; Katie Richardson, Sr .; Kaylee Siddens, Jr.; Jazzmin Evans, Jr.
Newcomers / Key Subclasses: Amy Vovcsko, So. ; Lillia Reid, therefore .; Charlize Gross, So .; Emma Kirkey, So .; Kaylin Robertson, then.
Outlook: Amy Golombisky likes what she's seeing from the Cavaliers so far, in training and in the team's opening double meet. A close loss to Ionia left the Cavaliers incredibly motivated to work harder, prompting a strong performance to beat Alma to a split on August 26.
Strong swimmers Kaylee Siddens and Mackayla Davis are expected to set the tone for La Coruna this season, with captains Lila Belmer and Jade Evans playing key mentoring roles, in addition to their strong contributions in the pool.
Second-year students Amy Vovcsko, Lillia Reid, Emma Kirkey, Charlize Gross and Kaylin Robertson are also expected to make waves this year, a group Golombisky describes as "fundamental" to helping maintain the program's hard-working culture.
Getting ahead of Owosso and Swartz Creek last season has certainly raised expectations this season for the Cavaliers, Golombisky said, noting the team are more focused than ever.
"I really like this rivalry. I really like the rivalry we have with Swartz Creek and I really like the rivalry we have with Owosso because I feel like these two teams are really forcing the girls, our team, to fight (for more) Said Golombisky. "Owosso and Swartz Creek are the ones who really instilled this (attitude) in (girls), that it's achievable, that it's accessible, that they're capable and if they just push a little harder they 'i will have it.