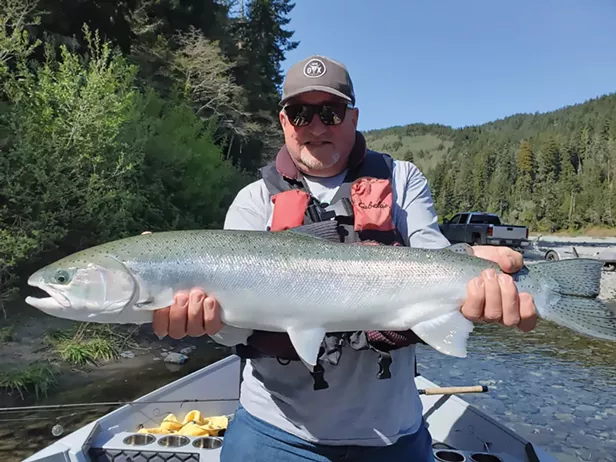 Spring rains are a bonus for North Coast rivers | Fish the North Shore
With very little rain falling in our area from January to March, most of us were already gearing up for summer. However, the April showers hitting the coast provide a second winter. These rains will certainly impact the health of future salmon and rainbow trout runs, which will likely be stronger in a few years because of this.
First, the late winter and spring rains will benefit the next run of adult fish, primarily spring salmon and summer rainbow trout. It may also increase the survival rates of recently spawned adult rainbow trout, or kelts, as well as salmon and rainbow trout fry and smolts which all make their way to estuaries and the ocean. The high, muddy water allows fish to make their way downstream with less risk of predation. The lack of fishing pressure will also help scavengers successfully move upriver. Heavy spring rains are expected, in many cases, to also result in higher flows and improved water quality later in the summer.
In most cases, high flows also contribute to the health and complexity of the river estuary. A nutrient-rich estuary provides young fish with plenty of food sources, allowing them to grow to optimal size before entering the ocean. This greatly increases their chances of survival. A healthy estuary is also beneficial for kelts weakened by their spawning journey, providing them with a safe haven before returning to the ocean.
With nature, it seems that for every plus there is also a minus. Extremely high flow rates in late winter and spring can also cause problems for fish. Without adequate freshwater and estuarine slack habitat, young fish can be washed downstream before they are ready, putting them at risk. Extremely high flows in late winter and early spring can also negatively impact late spawning fish. Spawning areas known as "spawning grounds" may be scoured or gravels within spawning grounds may be buried in fine sediment, preventing young from emerging. After a few months of unseasonably dry weather, it's a blessing to see the rivers flowing high and dirty. Hopefully our "second winter" will pay dividends in the future.
Marine forecasts
Ocean conditions are looking good for the weekend, but Friday starts off a little rough. Friday calls for northerly winds of 5 to 10 knots and westerly waves of 12 feet to 15 seconds. Saturday calls for north winds of 5 to 15 knots with westerly swells of 7 feet at 13 seconds. Sunday is looking a little better with northerly winds of 5-10 knots with swells of 3 feet at 5 seconds northwest and west swells of 8 feet at 18 seconds. These terms can and will change. For up-to-date weather forecasts, visit www.weather.gov/eureka/ or www.windy.com.
Pacific Halibut Season Set
The California Department of Fish and Wildlife recently announced that the 2022 Pacific halibut season will run from May 1 through November 15, or until quota is reached, whichever comes first. The 2022 quota for California sport fishing is 38,740 pounds, about the same as the 2021 quota. Taken from the CDFW Pacific Halibut webpage, www.wildlife.ca.gov/conservation/marine/pacific-halibut#31670772-in-season-tracking. The limit remains at one, with no size restriction. No more than one line with two hooks attached may be used.
Brookings Ocean Update
"The ocean from Brookings was wide open for lingcod and redfish over the weekend," said Andy Martin of Brookings Fishing Charters. "Lingcod limits for most charter boats from Twin Rocks to Mack Arch. Stormy weather again pushed boats aside on Monday, with rough conditions expected all week. kings being allowed from June 25. Pacific halibut opens May 1.
Ruth Lake Bass tournament coming April 30
The Southern Trinity Volunteer Fire Department is hosting their 14th Annual Ruth Lake Bass Tournament on Saturday, April 30. Take-off begins at 6 a.m. Registration fees are due April 29. Registrations are $150 per team (including Big Fish). First place is $1,500 and second place is $1,000. Big Fish will win $100. One in five reimbursement based on a full list of 40 boats. This is a catch and release tournament; livewells and life jackets are required. Check-in is Friday at the marina from 5-7 p.m. or Saturday at 4:45 a.m. at the marina parking lot. The Humboldt Bay Municipal Water District requires all boats to be inspected for quagga and zebra mussels prior to launch. For more information, call RLCSD at (707) 574-6332. For more information on the tournament, contact Doug Dinsmore at (707) 499-8485.
The rivers:
Reminder: The South Fork Eel, Van Duzen, Mattole, Mad, Redwood Creek and Chetco rivers are all closed to fishing.
Eel (main stem)
After peaking at nearly 20,000 cubic feet per second on Sunday, the main one is big and brown. With more rain on the way, another sharp rise to 23,000 is expected by Friday morning. Needless to say it will be blown away for a while. The Main Stem Eel at the South Fork is open year round. Only artificial lures with barbless hooks can be used until September 30.
Smith River
With more rain in the forecast this week, another big rise is forecast for Thursday morning that could exceed 13 feet at Jed Smith. Flows will then drop and conditions look good for the weekend. This will likely wipe out the last of the rainbow trout spawned downstream and may bring in a few new ones. The main stem of the Smith will remain open until the end of April from its mouth to the confluence with the central and southern forks. The Middle Fork will also remain open through April from its mouth at Patrick's Creek. The South Fork is also open until April, from its mouth upstream at about 1,000 feet to the bridge at County Road (George Tryon) and Craig's Creek at Jones Creek.
Lesser Thief
The best spring salmon fishing so far this season was late last week and over the weekend on the lower Rogue, reports Andy Martin of Wild River Fishing. "The guides were getting two to four springers a day, about half wild and half hatchery," Martin said. "The river was still fishable after Monday's rain, but was still rising. Last week's rain brought large schools of spring kings."
Kenny Priest (he/him) operates Fishing the North Coast, a Humboldt fishing guide service specializing in salmon and rainbow trout. Find him on Facebook, Instagram, YouTube and www.fishingthenorthcoast.com. For up to date fishing reports and information on the North Coast River email [email protected]